DFS and Aardman
– the makings of a beautiful partnership
When DFS first partnered with Oscar-winning studio Aardman (the geniuses behind Wallace & Gromit, Shaun the Sheep and more) over a year ago, we don't think anyone realised quite how amazing a partnership it was going to be! Our first advertising campaign with the talented animators... [Read more...] – which heroed some of the amazing craftsmen and women who create your sofas – was a huge hit. Since then, we've gone from strength to strength, with Aardman reimagining our designers, our sales teams and even our delivery drivers as cute characters, perfectly capturing the spirit and personality of the real DFS employees. For a behind-the-scenes peek at how Aardman create this magic, click the video below… [Read less...]
We've worked hard to showcase the quality and craftsmanship that underpins everything we do, and our partnership with Aardman takes that storytelling to the next level
Toni Wood, DFS chief marketing officer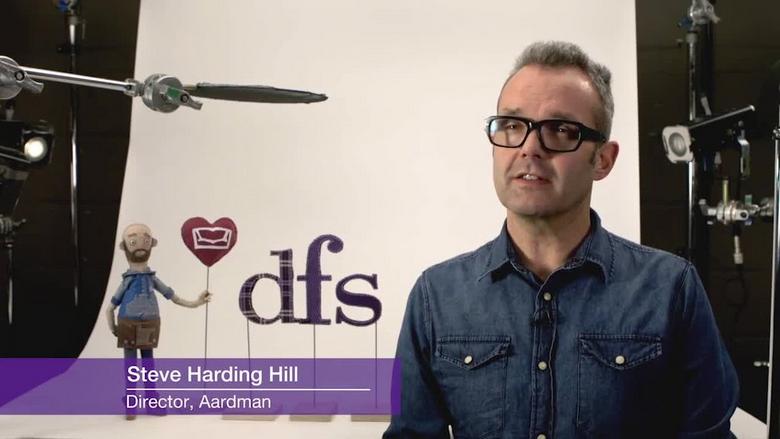 Perfect partners
the secret behind this successful partnership? Well, as Toni Wood, chief marketing officer for DFS, says: "As a brand, we're well known for our wide product range and commitment to offering great value, but what is perhaps less well known is our heritage and commitment to handcrafting sofas here in the UK. The decision to partner with Aardman was driven by our desire to work with a partner who shared our ethos. Their unique approach to creating beautiful animation with painstaking attention to detail, perfectly mirrors our own commitment to craftsmanship."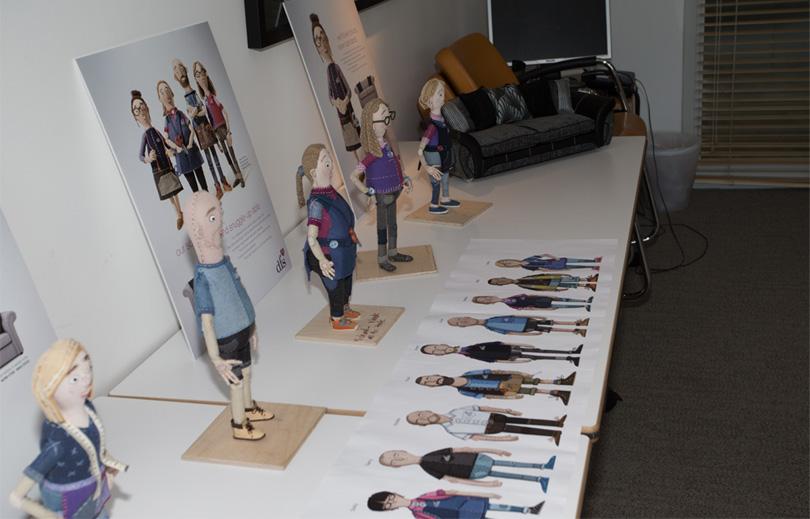 The making of our characters
So much work goes into the making of each DFS and Aardman TV campaign – but it's well worth it. For starters, each featured DFS employee is interviewed, filmed and photographed so the Aardman geniuses can really get to grips with their personalities and mannerisms. Then they're all recreated as lifelike, 30cm-tall characters made from metal and fabric (each model takes around five weeks to make – we told you it was a lot of work!), before the real fun begins… filming!
Have a look at the photos on the carousel below to see just how lifelike the Aardman characters are, featuring some of the colleagues from our factories, our designers, sales team and delivery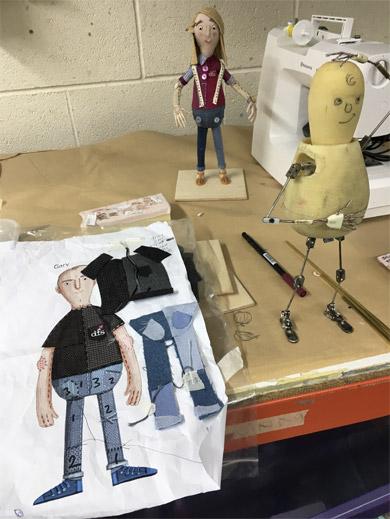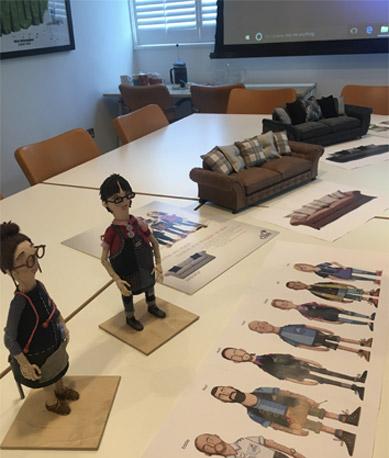 ---
---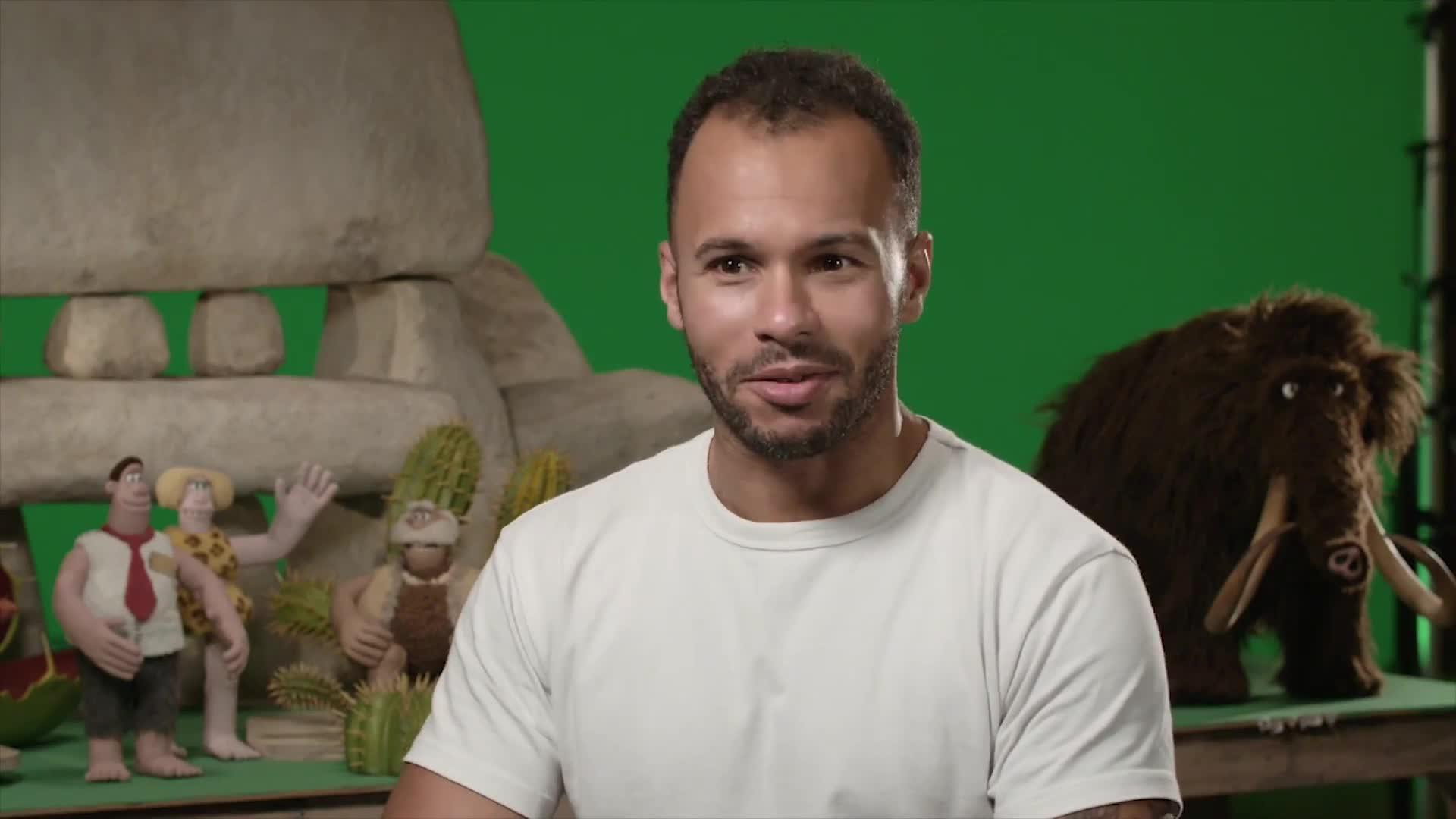 We are delighted to build on our hugely successful relationship with Aardman Animations by partnering with them for Academy Award® winning Nick Park's first feature film since Wallace And Gromit: The Curse Of The Were-Rabbit. Early Man tells the story of how plucky caveman Dug, along with sidekick Hognob, unites his stone age tribe against the mighty Bronze Age in a battle to save their home.
Dug, Hognob and other members of the Early Man tribe starred in our Mammoth Winter Sale advert - looking for a comfy sofa in our
Mammoth Winter Sale!

To celebrate the release of Early Man, we invited a handpicked selection of journalists and influencers to see the movie from the comfiest spot we could think of – sitting in one of our sofas! Find out what two of our attendees thought in these two special reviews.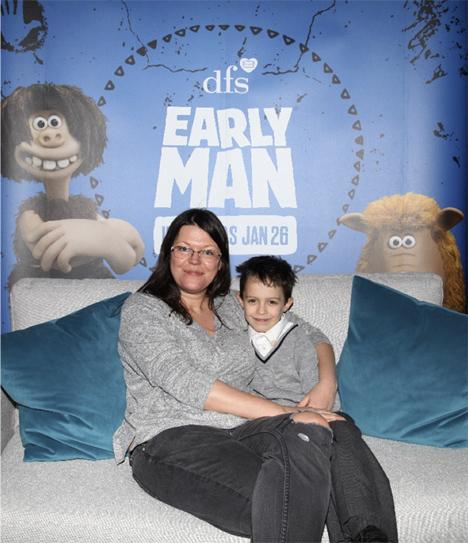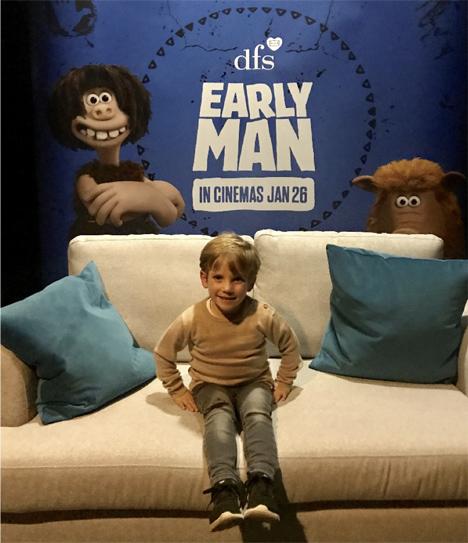 I don't think going to the cinema will ever be the same for me and my son after we had the comfiest cinema experience ever at the DFS screening of the new Aardman film Early Man. Walking in to a screening room with a room full of squashy sofa's and an excellent variety of snacks to choose from is pretty much the dream cinema scenario. And that was before the film had even started!
Choosing which DFS sofa to sit on was something we took very seriously! Should we spread out on the stylish and spacious Eden in this year's colour trending teal, or snuggle up on the super cool Zinc Cuddler in gorgeous green velvet. In the end my five-year-old took charge and parked himself and his popcorn smack bang in the middle of the front row on the fabulous Fliss.
Early Man is the first film from Aardman (of Wallace & Gromit fame) in 3 years, and it's been 8 years in the making, but it's well worth the wait. It sees Dug (voiced by Eddie Redmayne) and his fellow cave men and women uprooted from their beloved valley by the bigger, sheer brute force of the Bronze Age people, who are overseen by the beastly Lord Nooth (voiced by Tom Hiddlestone). In Dug's quest to reclaim his land, he ends up committing his tribe to a game of football against the all-conquering Real Bronzio. But there's just one problem, they've never actually played football! Luckily for Dug and his tribe, a girl is on hand to show them how it's done. Goona (voiced by Maisie Williams) steps in, whips them into shape and shows them that there's no 'I' in team. This is a true family film which has plenty to appeal to all ages. I loved it and my son was so into the story he was literally and quite loudly cheering on Dug and his teammates during the football match (my apologies to the rest of the audience). It turns out that comfort, comedy and cave folk is a winning combination.
I'll bet if I asked someone to tell me their best cinema experience they would give me a puzzled look. It's all a bit the same usually, isn't it? Shuffling around on uncomfortable, cramped seats, expensive snacks, fidgety kids. Well, those people haven't experienced cinema DFS style.
A cinema screening room full of luxurious, snuggly sofas and all the pizza and popcorn you could wish for. The kids were still fidgety, but DFS sell sofas, not miracles. We turned up and chose our sofa – I liked the look of the smaller sweetheart sofas, but Rian was naturally drawn to the biggest sofa in the house, a floral velvety Joules number at the back. His immediate complaint was that it was so much more comfortable than our sofa at home!
We armed ourselves with snacks and listened to a quick talk from Steve from Aardman, who made the Early Man film and also the latest DFS adverts. Then we got to enjoy the extremely funny and sweet film itself. The boy was thrilled to know he was one of the first children in the UK to get to see it – and from an amazingly comfy sofa! Cinema will never be the same again…