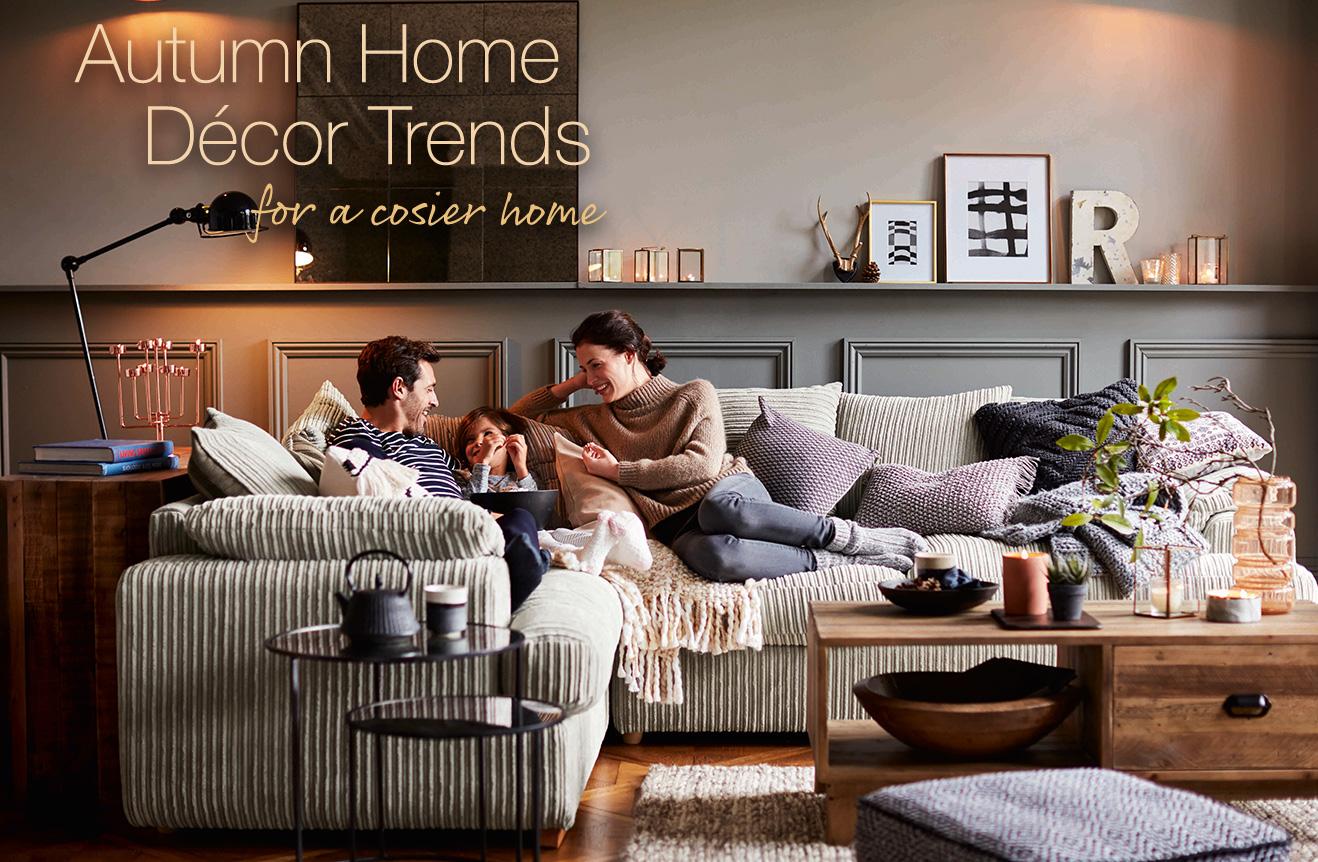 Artisan accessories...
Seasonal colours...
Mixing metals...
Floral...
Aztec...
Plants...
Lighting...
Shop the trend...
Change up your interiors this season with these autumn home décor trends! Embrace an autumn colour palette and bring the outdoors in for the perfect refresh to your home.
As the seasons change and blooming flowers turn to falling leaves, many of us look forward to cosying up by the fire and enjoying what the cool autumn nights have to offer. Whether it's layering up with our favourite throw, adding warmer hues to make up the autumn colour palette, or adding a touch of the outdoors through indoor plants; autumn is the perfect season to refresh your home décor.
Artisan accessories
Inspired by the handcrafted and homemade, a folk-inspired artisan interior design can conjure up homeliness and comfort in any room, making autumn the perfect time to introduce this trend into your home. From hanging frames complete with either photographs or pressed flowers, to floating shelves that add personality and a vintage edge to otherwise bare walls; no matter how big or small you decide to go, artisan accessories offer texture to a room.
Larger staple pieces such as patchwork quilts, knitted throws or tufted rugs fit perfectly into autumn interiors and add layers to a living room or bedroom; while woven cushion covers add warmth and colour to your fabric sofa. To add another layer of warmth for those colder months, incorporate oversized throws and blankets for a cosy sofa haven.
Seasonal colours, earthy hues and rich pigments
An autumn colour palette is timeless and is a look that can take your home through every season. So why not be inspired by nature and bring the warm earthy hues of autumn indoors? From fiery shades of red to burnt orange and rust, an autumn colour palette makes any home instantly cosy.
Take your autumn shades to the next level by matching your colour palette with naturally tarnished woods and metals which are in this season. By adding splashes of earthy colours to your autumn home décor in the forms of rugs, cushions or autumn decorations; this can make a neutral coloured room more warm and welcoming. To top it off, arrange seasonal finds and autumn foliage on shelves and table tops.
If you're feeling bold or want to try something new, choose rich pigments and invest in a coloured sofa. Colour schemes such as daring orange, bright yellows and deep rouge can add a much-needed vibrant pop to your neutral browns and greys.
Which are you - small details
or big blocks of colour?
Mixing metals
Gold, copper, rose gold, silver, brass, you name it – metals are hot on trend this year and continue to be throughout autumn. Highlighting metallic features in any room can create a contemporary feel that adds a sleek look to any autumn interior. If you're unsure about this design trend, don't be!
Mixing warmer metals such as gold, copper and bronze accessories into your autumn home décor will enhance the autumn colour palette of red, orange and brown, whereas cooler metals (silver and chrome) have natural affinity with neutral blues and greens.
For a timeless finish to any room, keep it simple with neutral coloured walls and dress up your staple piece of furniture with accessories. Whether you decide to dress up your sofa or want to create ambiance with a lamp and occasional table, choosing pieces that create texture can add additional warmth that is sure to make every room warm and inviting for you and your guests.
Floral
Take inspiration from the outdoors a step further from the autumn colour scheme, and embrace florals on a larger scale. Keep a lookout for bold prints and oversized florals in the home – perfect for an autumn bedroom makeover.
Florals look beautiful on bedding or cushions, especially choosing deep green or red hues to complement those warmer colours and the rest of your autumn home décor. For a bolder look, a statement wall or mural will let oversized florals take centre stage. Keep the rest of the room simple and let the florals come to life on the wall!
Aztec
If florals aren't your style,
embrace cultural Aztec
patterns and chevron shapes
into your autumn interiors.
Like the rich colours of floral
patterns, Aztec accessories are
made up of earthy hues and rich tones, making the ideal accompaniments to a cosy autumn home décor. From mismatching rugs to throws, this trend allows for extra texture for warmth and practicality.
Plants
Finally – plants!
What better way to welcome autumn into your home than creating your very own indoor garden?
Air purifying plants such as English Ivy, Peace Lilly and Swiss Cheese Plant embody style and purpose.
Lighting
With winter approaching and autumn marking the end of those long, sunny evenings; indoor lighting is even more essential to your home décor. Forget about boring bulbs with a plain lampshade, instead make your lighting more exciting with creative and decorative lamps and fixtures.
Along with the warm glow that makes your home a cosy retreat over the darker months, lighting can add style and comfort to a room. To create an atmosphere that is cosy, include warm coloured lampshades that create a soft glow or add copper lighting to complement your autumn colour palette.
---
Shop the trend
Remember, when embracing autumn home décor think colours, texture and lighting.
Use folk-inspired accessories, play with a soft autumn colour palette, and add depth to your home by layering, using patterns and mixing materials. Your home will be cosy and ready for autumn before you know it!