Inspiring interiors
#mydfs
The Old Forge Cottage
The Old Forge Cottage takes on-trend greys and applies them to a classic English cottage, bringing it all together to create the ultimate modern farmhouse.
Classic yet still on-trend
The Old Forge Cottage is the perfect blend of classic cottage charm with the latest on-trend interior stylings. Starting at the heart of the home, Amanda and her family wanted to maximise the natural assets of the cottage living room (such as the exposed wooden beams and working fireplace), but bring it up to date with contemporary twists.
"Hardwearing and practical, which is important with three kids and two dogs!"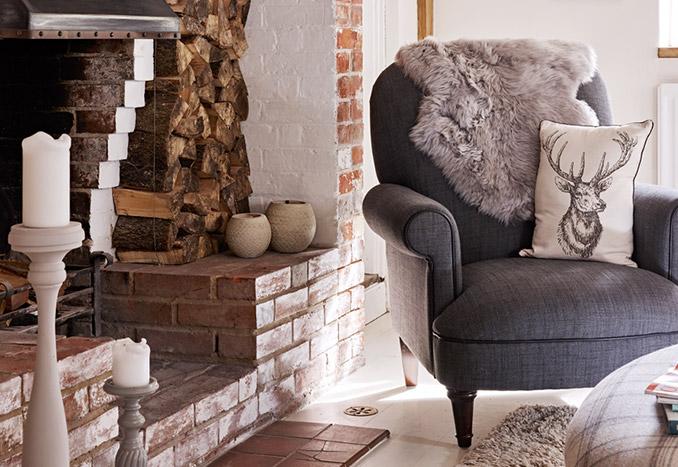 "The house now feels like a home"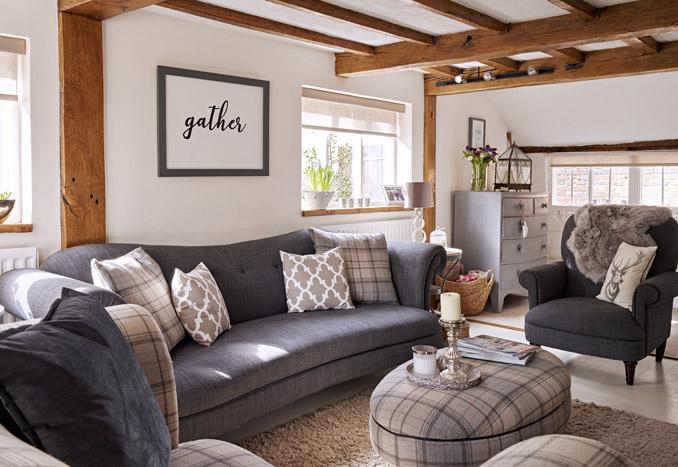 House rules/colours
The colours came first, with off-white chosen to enhance the warmth of the room without making it feel clinical. Next came the centrepiece sofa; Amanda and her family explored a number of options, including a large corner sofa, but eventually decided on a four-seater Moray. A modern take on the classic Chesterfield, The Moray won out for Amanda because it fits in perfectly with the 'classic contemporary' aesthetic.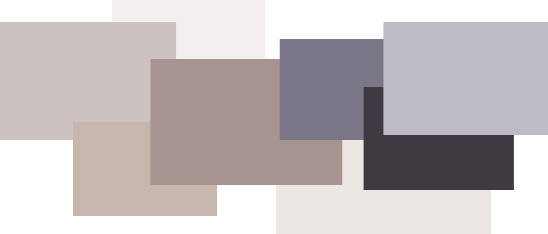 Flexibility and fashion
The main sofa is complemented by a Moray checked cuddler sofa and accent armchair, providing the perfect blend of flexibility and fashion and completing a living room that's perfect for either cosy family nights or entertaining.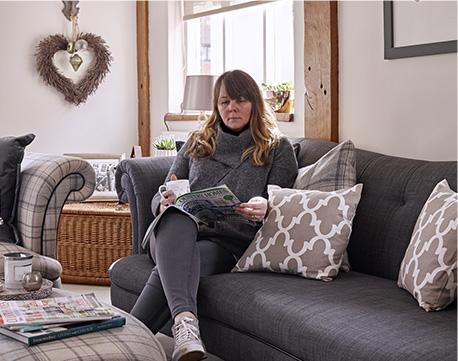 Biography
Niall and Amanda live at the Old Forge with their three teenage children and two dogs, and are undertaking most of the renovations themselves. Having previously moved every few years and renovating their last four homes, The Old Forge Cottage is a long-term passion project for them. It's a listed building, so any changes and modifications they make to bring the house into the 21st century need to be planned in meticulous detail.
For Amanda, having such a distinctive and characterful backdrop to work with is her biggest challenge but also her biggest opportunity. It's about keeping the cottage looking authentic, but adding the modern touches that make it feel like a modern and contemporary home.
More from the Moray Range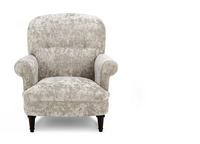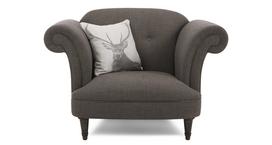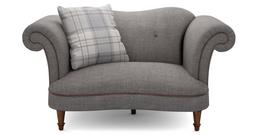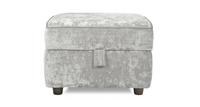 ---
---