Decorating small spaces:

Hosting Guests in a Small Home
No matter how small your home, hosting guests can be fun and exciting! Take a look at our best tips for decorating small spaces to host guests overnight or for small soirees.
Whether hosting overnight guests or throwing a soiree, having a small home doesn't mean less fun or less comfort. Forget the usual worries of "Will everyone fit?" or "Where will people sit?" and take a look at our top tips for hosting guests in small homes. So, if you're looking for small living room ideas to make the most of your space, or want to make hosting guests more enjoyable, read our tips here.
Before your guests arrive
Whatever the occasion, there's a few housekeeping tips to remember when hosting guests. Rule number one, keep the space cool. Whether you've got few friends coming for a party or family staying over for the festive season, it's bound to get stuffy in a small home. So make sure to open your windows before the occasion and consider investing in a fan for the hotter months!
Rule number two, clean your space. Small spaces tend to look even messier or cluttered when there are items laying about, so get stuck into a deep clean and embrace your inner minimalist by clearing everything away.
Making the most of your space
Looking to create a relaxed dining area without the need of a formal setting? A built-in seating area in your kitchen can be the perfect space. Remember if you have any architectural quirks in your small home, be creative with built in seating and utilise any additional storage space they may bring.
All space can be utilised, particularly if you have a small dining room or kitchen. Using an over the door storage unit in a kitchen cupboard can help create even more space for your kitchen essentials, while a pull-out bin can free up floor space giving you extra room if guests come over for dinner.
A storage footstool is perfect for keeping things like books, magazines, cuddly toys and remotes tidied away plus they offer an extra seat for when you have people over and tuck away nicely in the corner once everyone has gone.
Decorate your space
When it comes to decorating small spaces, neutral colours tend to work best as they can open up a room and make it feel airy. If you love patterns and bright colours, neutral walls will help you avoid any unwanted clashes. Mirrors are the perfect accessory for your small home, and if you place them opposite a window, they will double the light in a room!
Top tip
An essential small living room idea is to always decorate upwards! Hang your curtains higher than the window to give the Illusion of a bigger space and make use of shelving and wall mounted lamps to free floor space.
If you have a small home then let's face it – the chances of a spare room are pretty slim! But fear not. Although your guests are couch surfing for a night or two, this doesn't automatically mean a 'bad night's sleep'!
If they're using your sofa as a bed, put a cotton sheet down and some soft blankets and chunky throws for extra warmth and comfort. Remember, a good pillow can often make all the difference! Alternatively, a sofa bed is perfect for a small living room and can bring style and functionality when furnishing small spaces. If you don't have space for a sofa bed, air mattresses are another great invention, particularly when hosting guests. Ensure you cover the air bed with a fitted sheet and to make things extra comfy, add pillows and proper bedding. Make sure to prop the mattress against a wall to prevent pillows from falling in the middle of the night!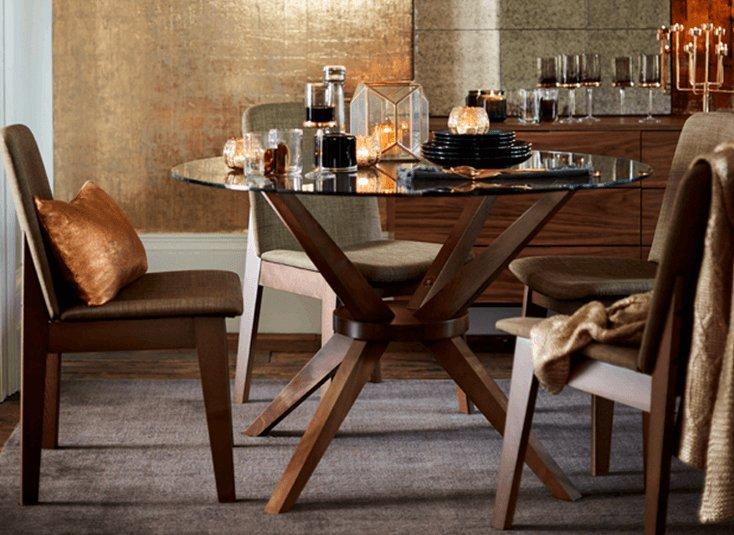 Small but stylish dinner party
If you're worried that your home is too small for a dinner party, don't be! Embrace the small space and squeeze as many friends onto the guest list as you can. There's always room when food is concerned. If you have a dining room,
you've got a head start!
You already have an area sorted
for the dinner party that's away from the food prep and kitchen chaos, so focus on mood lighting (candles and warm-hued lamps), the menu and the music. Our favourite small dining room ideas include extendable tables and rustic wooden benches that can be easily tucked away when not in use.
If you don't have a dining room:
However, if you don't have a dining room, get
your creative brain on. Rearrange furniture in either your living room or kitchen to make room for a
one-night-only dining table which can be pushed to the side when not in use! If you love hosting dinner parties, a foldaway table is the ideal dining table for small spaces, and can even double up as a desk or side table.
Your dining area might already be in the kitchen, so in this case, get your meal preparations finished before guests arrive to avoid a heated panic when it's go time. Remember, to keep your space clean and clear pots and pans away!
---
Shop the look
No matter how small or challenged your space, your guests are there for your company too. Be creative when decorating small spaces and remember that there's always a small space hack to help; a little planning ahead goes a long way!