Fabric Sofacare
Fabric sofas are perfect for snuggling down on with your whole family – pets and snacks included. We've put together some tips to help you take care of the heart of your home.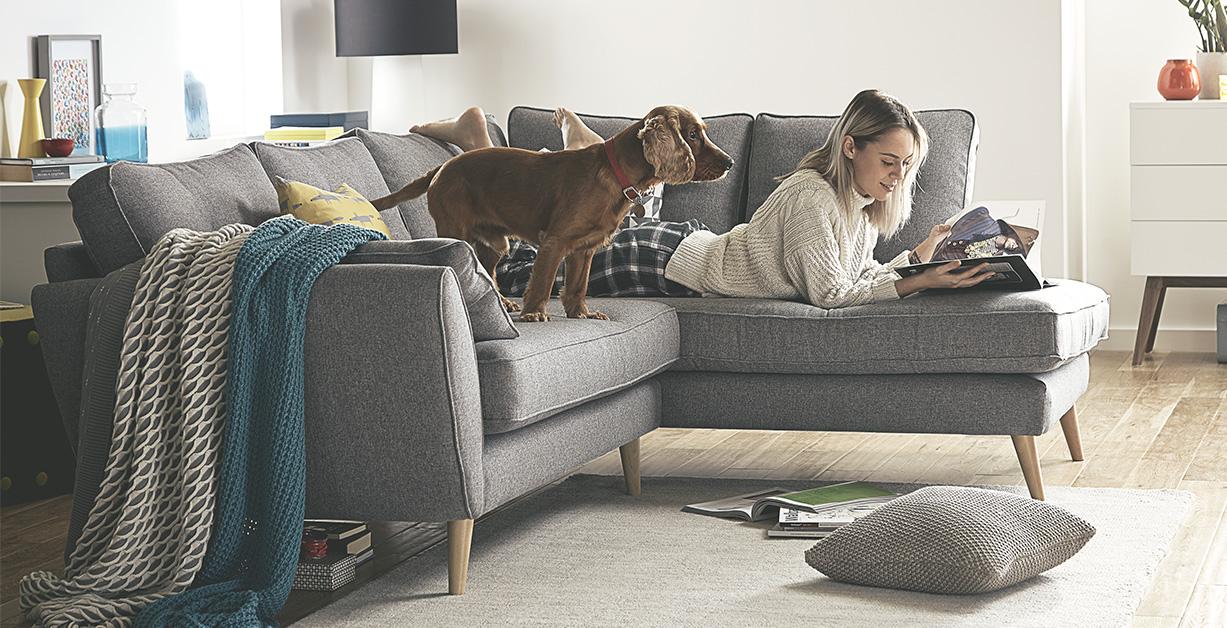 Top Tips
Take all the cushions off and give your sofa a quick hoover once a week to remove any collected crumbs. Run the vacuum over all the cushions to lift off any surface dirt and dust using an attachment with a soft brush to avoid damaging the fabric and set your hoover on a low suction setting.
Watch those new black jeans on your light-coloured sofa. There's a chance that the dye might transfer onto the upholstery.
Stay away from the washing machine. Our fabrics aren't designed to be washed and giving covers a spin at even a low temperature could affect how fire retardant they are, as well as cause the colours to seep and the fabric to shrink.
Fabric care kit
Get rid of marks and spills quickly and easily with our Fabricare kit. It comes with two stain removers in different strengths, as well as a general cleaner, a soft cloth, a sponge and a full set of instructions

Call 0808 1209679 to find out more
Our 5 year service plan
When you've invested in a new fabric sofa, you want to protect it from spills, stains, rips and tears for as long as possible. That's why our 5 year service plan can be in place from the day your sofa is delivered.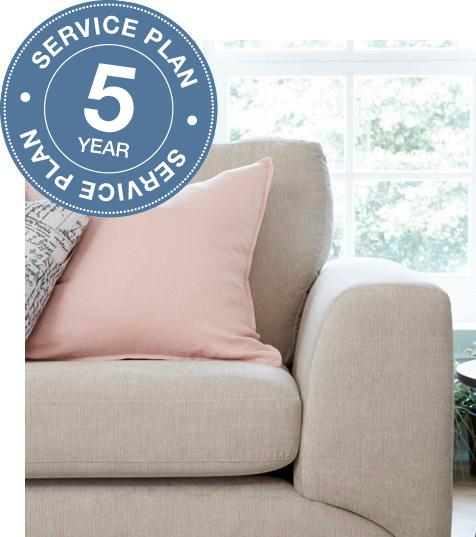 What's included
Our 5 year care plan starts from the date of delivery of your furniture. It takes care of staining on your fabric sofa including dye ... [read more] transfer from clothing or newspaper print, plus any spills from food or drink that leaves a mess behind. It also takes care of damage including scuffs, burns, tears, rips, scratches or punctures to your sofa. Damage from children or pets are also covered as part of the care plan. [read less]
You also benefit from damage to interiors, exteriors and motion furniture included which starts from the end of the 2 year manufacturers guarantee and lasts for 3 years.
+
-
What's not included
Some damage isn't included in the service plan; including general cleaning ... [read more] or gradual wearing of the furniture through normal use. Damage caused by pets is covered, however a build up of damage caused by pets is not.* Colour loss, dye transfer as a result of an accumulation or fading by sunlight is not included and neither is damage caused by using the wrong cleaning products. Take a look at our care tips for fabric sofas to keep yours looking spick and span.

You are only eligible for the Sofacare service plan if the furniture is going into your home. You cannot purchase the Sofacare service plan for use in business properties or properties you let out.

*Link to full service plan conditions. [read less]
+
-
How do I report damage?
You must make a request for repair services as soon as possible and... [read more]
always within 28 days of the damage occuring. Any requests outside of this time frame may mean we will not be able to provide repair services. To make a repair request call Guardsman on 1800 806 182. You can also download a form from the Guardsman website and send it via email at [email protected] or by post. [read less]
+
-
How will I be compensated?
Guardsman has a team of trained furniture experts. We may send out an expert technician to look at the damage, and where appropriate we... [read more] will aim to clean or repair your furniture. If we can't, then we'll make an effort to replace it with something as close to your original purchase as possible. [read less]
+
-