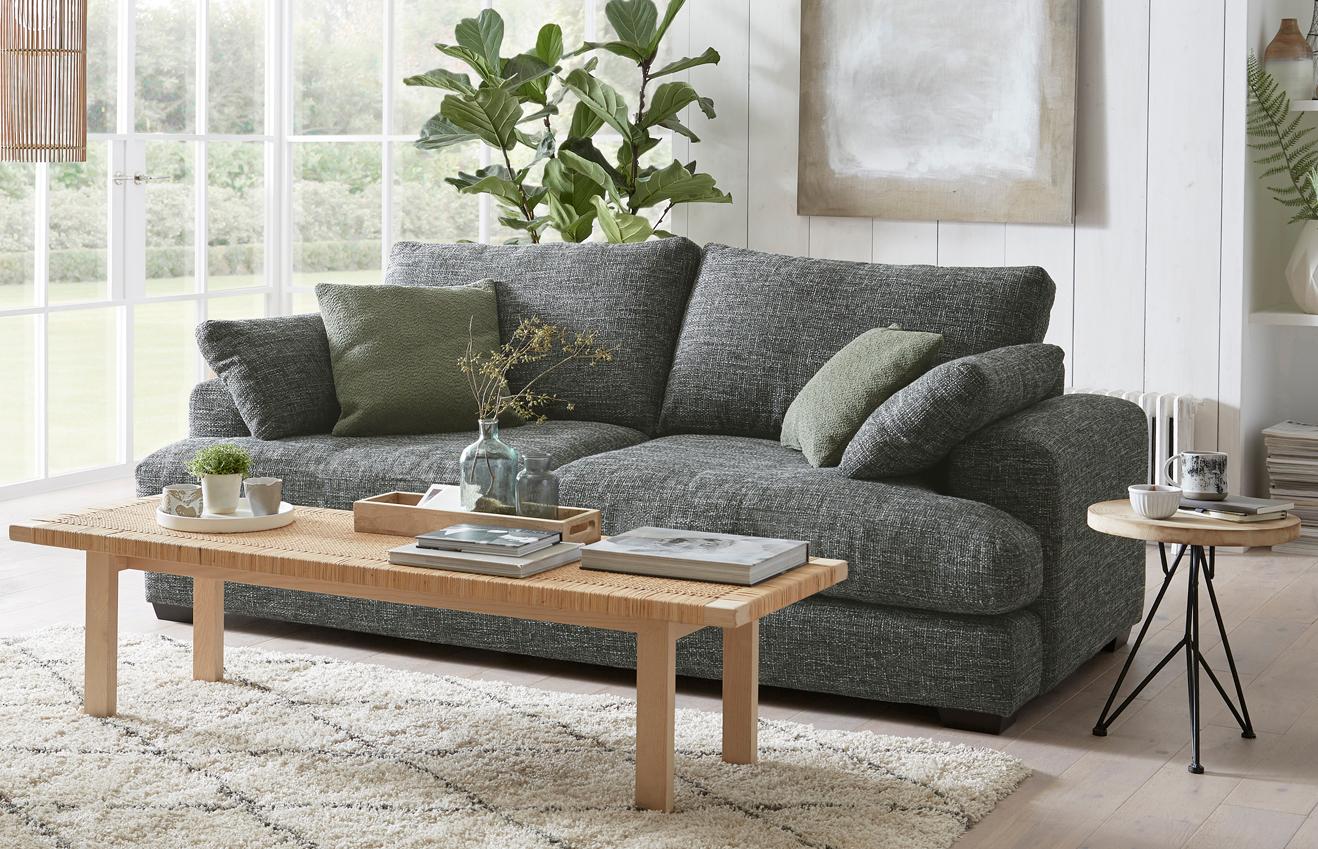 Reassess

your space
When circumstances change,
your home should too.
Whether you've downsized, upsized or seen your family grow (or shrink), now could be the time to reinvent, reclaim and create a home that suits how you live now.
Start by going for a walk around your home. Looking at each room in turn, think about how it works for you. Is every space useful, or are there corners, areas (or even whole rooms) you never use or no longer make the most of? Here are a few space saving hacks and points to consider.
Year-round
sunshine
If you've not ventured into your conservatory or sun room over winter, consider ways that valuable space can be used all year round. Add a cuddler sofa or armchair (and maybe an extra TV) to give yourself an extra lounge, or transform it into your regular dining space with the right table and chairs.
Change a room's role
You want somewhere grown-up kids can come home to, but why not reclaim 'their room' when they're not there? One of the easiest space saving ideas for small homes is to swap the bed for a sofa bed. Stashing their things in a new wardrobe could help transform it into a craft or hobby space, exercise area or even the dressing room you've always dreamed of.
Make furniture
work hard
If you've downsized somewhere more compact and need ways of maximising space in a small house, look at multipurpose furniture – beds or sofas with hidden storage; mini sofas that would make your kitchen more sociable; extending dining tables that shrink when needed, and corner units that use every inch of wall space.
Futureproofing
First home? Our furniture is handmade and offers a 15-year guarantee, so you can invest in a couple of dream pieces knowing they'll last. A blank canvas may seem daunting, but a good-sized sofa in a go-with-everything shade (try grey, navy or cream) and a quality wooden dining table will provide the starting point for a beautiful room.
Ten steps to refreshing your room
Set a budget: allocate a set amount for furniture, paint, accessories and flooring – and stick to it.

Create a mood board: either physically or on Pinterest, adding pictures of furniture, colours and patterns that catch your eye. Take it with you when you go shopping.

Take a picture of your room: this will help you view the space through fresh eyes.

Cut back on clutter. Wondering how to make a room feel bigger instantly? Be ruthless and keep only things that are useful or make you happy.

Be nosy: gather inspiration and home space saving ideas from friend's houses, shop window displays and interiors shots on Instagram.
Take something away: find new homes in other rooms for things you treasure, or store them away.

Let furniture breathe: pulling a sofa away from the wall or leaving space to walk all the way around a dining table helps a room feel airier.

Accessorise all areas: add personality with new cushions, throws and well placed rugs.

Go green: houseplants (real or faux) will add a shot of colour and make a room feel calm.

Be bold: add one showstopping piece – a bright velvet sofa, a stunning dining table or a huge mirror.
---
Shop the look